Now more than ever, we know students are looking for connection, and we want to help! Engagement Pods were launched in fall 2020 as an opportunity for students to safely gather in person to build community, explore their interests, and connect with UA. We are thrilled to continue this program for spring 2021. Whether it is meeting to discuss your favorite books or movies, a weekly coffee chat, leadership development, or cooking – we want to help create and match you with a pod that's right for you!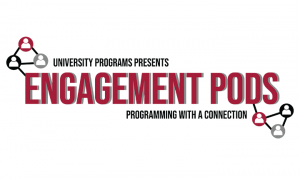 A few important things to note:
Leaders
Are you interested in leading an Engagement Pod? Email universityprograms@ua.edu for more information.
Participants
Are you interested in participating with an Engagement Pod? Our 2021 Engagement Pod directory is now OPEN! Check out all of the available pods here and email universityprograms@ua.edu to sign up! Pods will begin on Sunday, February 21. You will receive an email once you've been assigned to a pod.
More Information
Please email any questions to universityprograms@ua.edu. To stay up-to-date on all things related to University Programs, make sure you are following us on Instagram, Twitter, and Facebook.