Rising Tide Tailgate – Alabama vs. Southern Miss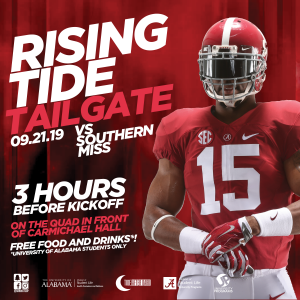 University Programs will be partnering with Health Promotion and Wellness for the Alabama Rising Tide Tailgate. This event will take place on the Quad across from Carmichael Hall and will begin 3 hours before kickoff. This event focuses on the ability for students to have an enjoyable time tailgating without being in the influence of alcohol. Free catered food and drinks will be provided.
For up-to-date information on all of our events, follow us on social media @UAWhatsUP!